Thanks to Layla at
The Lettered Cottage
who invited bloggers to post about Summer Decorating of their mantel and link up to her Linky Party on the 18th.....she inspired me to re-think the way I display on our mantel in our Coffee Room! This room was originally inspired by our love of the Colorado Rocky Mountains....but after many years of the room looking quite the same.I figured that I could get
ON BOARD
with the idea of changing the look with the seasons....Not knowing that it would make us fall more in love with this room, seeing it in a different light!
I "shopped" my home for things that I would consider to utter the words SUMMER and quickly came up with this SEASCAPE theme. But I hate to use the word "THEME". Years ago, we all would decorate with each holiday or season and the rooms would look very THEME-Y. Now, with more taste, less cluttered collections...and hopefully more style....I like to think that the rooms actually tell more of a story.
I used:
1. a sailboat from my son's room
2. grass cuttings from last year that look like beach grass
3. a starfish we got along the beach at Freeport, Grand Bahamas (you can still see the sand on it)
4. a couple lanterns
5. a picture of our girls standing in the ocean, in a PORTHOLE frame
6. fish netting as the backdrop to the display
The rest of the room had to be considered too to pull off the SUMMER FEEL.
So I brought in:
1. our big palm plant
2. a galvanized "sand bucket" :)
3. denim pillows and quilt
4. a seagrass rug
5. more framed pics of our BEACHY travels
6. a coffee table book of the 50 states so we can start daydreamin up our next family excursion
Our inspiration for this little mini make-over came from our time visiting this......
.........while vacationing on this......
Thanks again to Layla for giving me the idea...I swear that I hadn't seen HER summer mantel until after mine was completed :) And hope everyone follows the Party: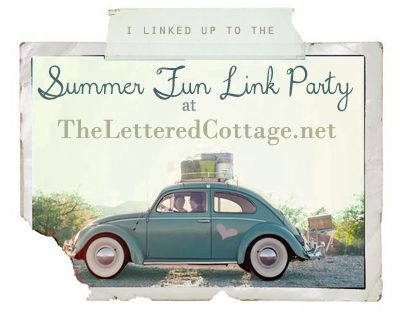 I would love for more inspirational ideas for next year and can't wait to see what everyone else has done!
Come back again...I am going to be showing our other mantel's summer style next time.
~Kim